Using GroupMe to Build Community Organically
By Karin Dye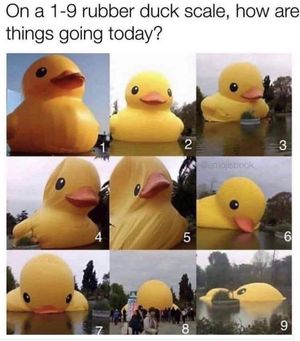 High school students love their phones. Most adults do too, right? Why wouldn't we? We get an almost immediate dopamine hit when pick them up. Today I'm going to walk you through how I have used GroupMe/my student's love of their phones as a means of creating connections with them outside of class time without using any rehearsal time to do it.  In order to do this, you will need to make a class GroupMe and have your students join it. I made it a part of the grade book so they had that external motivation to get signed up as well. If you have no idea what GroupMe is or how to implement it, check out my tutorial here. You will need to scroll to the second half of the article for the GroupMe information.
Mental Health Check-ins That Won't Make Them Roll Their Eyes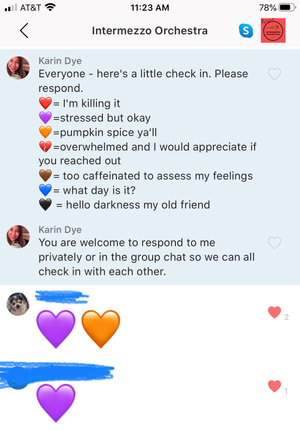 This was a funny little way to check in with my students and I got almost 100% participation from both boys and girls. Sometimes students shy away from the concept of "self care" but if you throw some humor into the mix, they will likely jump on board. Most students just had fun with it, but some sent me private messages and we ended up talking through some things together. It was really beneficial. You can use my color hearts or write your own. I had fun writing mine :)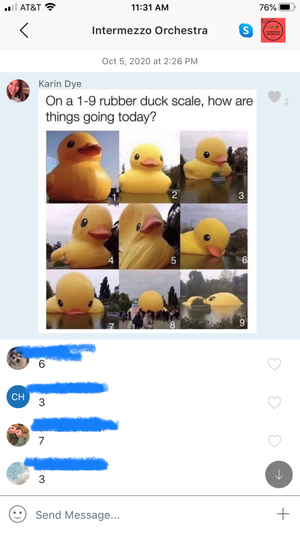 This one made the kids giggle a bit and I made sure to reach out to students 6 and up. Asking questions like "what made your duck deflate? or what can we do to get your duck afloat again?" is a lot easier than "what's wrong?" "why aren't you feeling your best?" "why aren't you turning your homework in?" 
Talk to Them...About Anything
When I was a 19-year old music ed student, I had to do a practicum with high school band. I was there for an hour once a week. I did not know the kids and rehearsing them was kind of awkward. Who was I to them? My cooperating teacher gave me the advice to just get up there on the podium and start talking. It didn't matter. Just a short and sweet anecdote. It helps them see you as human and makes them feel that they know you in some way. Read: This does not mean you stand up there for minutes and minutes rambling on about your personal life. Keep it short and sweet!
Usually, I do this on the podium but I'm in a quarantine with them right now so I've started making little vlog updates to share with them.
Yesterday, I took them to my back yard garden and picked out a pumpkin. The following day showed them some dog walking. These aren't amazing videos. But they love it. My 40 second pumpkin video sparked a conversation between kids who do not usually interact. I promise--this will get them bonding better than any planned ice breaker activity.