Performing in a Pandemic: How to Keep it Safe and Still Have Fun
By Karin Dye
Like most I usually look forward to the fall. As a life long lover of school and all things academia, the fall means a new start. New classes! A new year! Sweaters, falling leaves, and various pumpkin spice products.
This year as we rolled into the fall and hybrid learning, I was less thrilled. To be honest, there would be no pumpkin spice latte grand enough to save my mood. But alas, I figured if I was feeling this way, the students must be even less motivated. From this was born the first ever EPHS Socially Distanced Movie Music Concert and Festival. What is a socially distanced movie music concert and festival and how did we do it? 
Finding a Venue
I started by checking out the parks and rec options in the city I teach in. I really recommend finding ways to partner with your community. People will want to support you because you are a school arts program! We held our concert at Staring Lake Amphitheatre and they waived our fee, knowing how tricky it had been to work in education this year. The venue was a stunner. I loved the fall trees as a backdrop.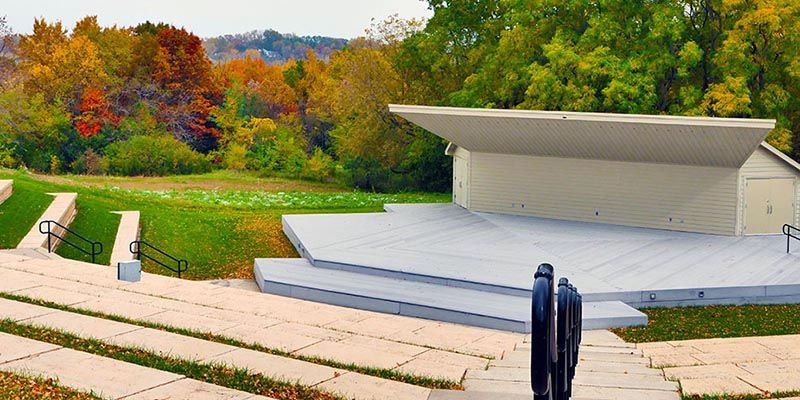 Photo from Twincitiespropertyfinder.com
Safety Precautions
All student performers were required to wear a mask

All concert attendees were required to wear a mask
Each student performing was allotted two tickets for the event to make sure we kept numbers low
Students were distanced on the stage (6 ft)
Volunteer ushers helped concert attendees find socially distanced seating. Using spray paint and cones we were able to mark off the seating easily and clearly
Families were asked to leave after their student performed
There was a 15 minute dead air space between each performing group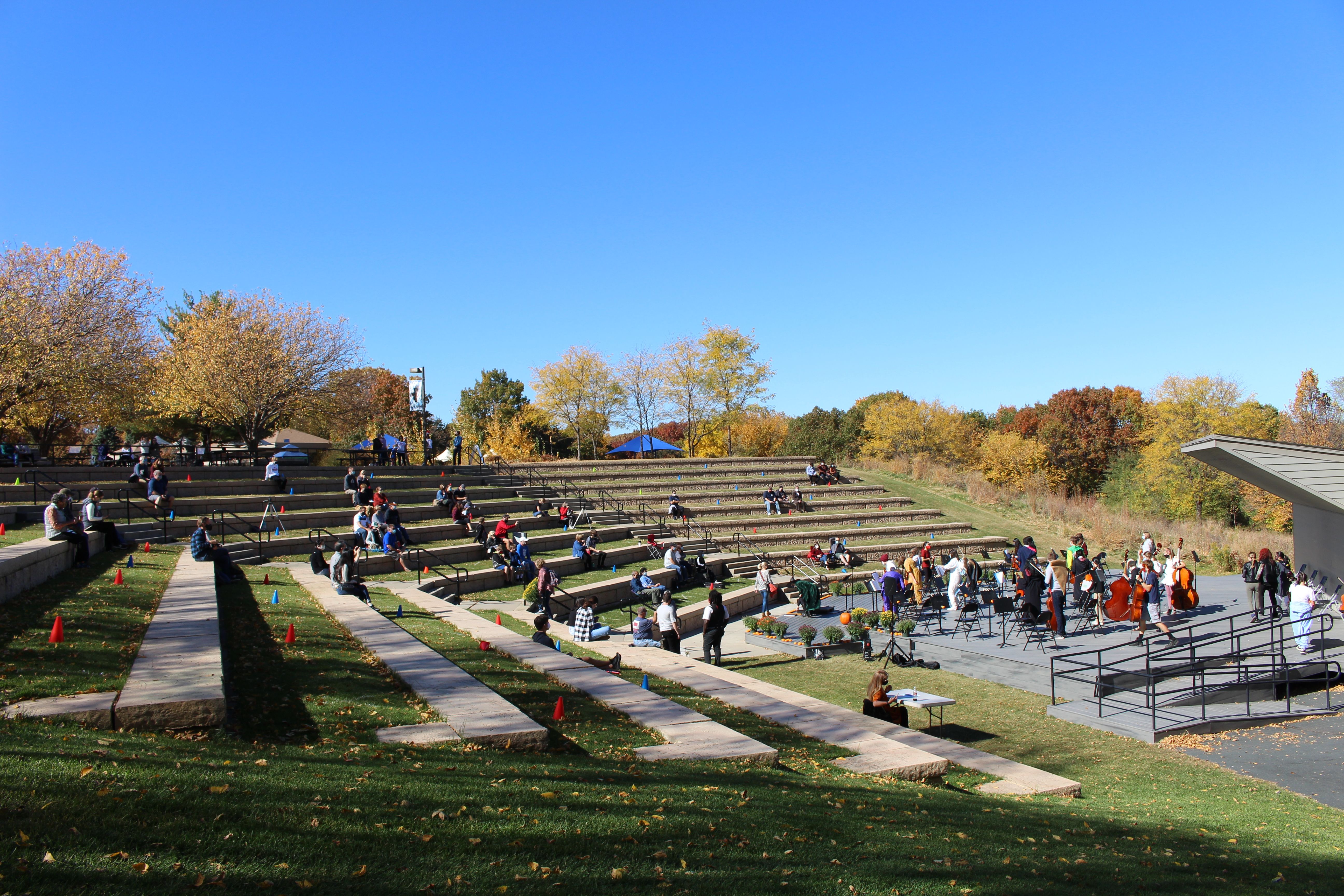 Photo by Dawn Thompson
Selecting Music
We needed some incentive for the orchestras. While they love rehearsing and making music, it can be hard to find motivation if you have no performance that calls for practice. Since things were already going to be weird, we did a themed concert. This happened in October (back when my school was still in hybrid learning) and we leaned into the theme of fall favorites/movie music. We performed music like In the Hall of the Mountain King by Grieg, Ghost Busters, Gauntlet by Doug Spata, Beauty and the Beast, Harry Potter, Pirates of the Caribbean and more in that vain. There are arrangements out there for all levels and abilities. You can make this work for a lot of different age groups.
Making it Fun
Because this was an outdoor music festival, our orchestra black did not seem appropriate. Instead, the students (and directors!) wore Halloween costumes. Students love an excuse to dress up. Seniors got the opportunity to conduct a piece and they dressed in the theme of the music they were directing.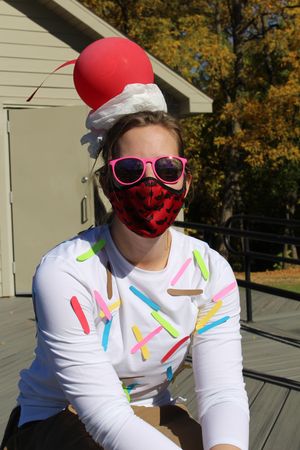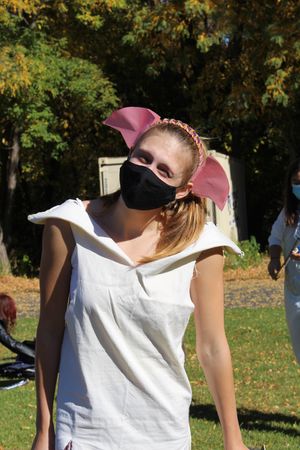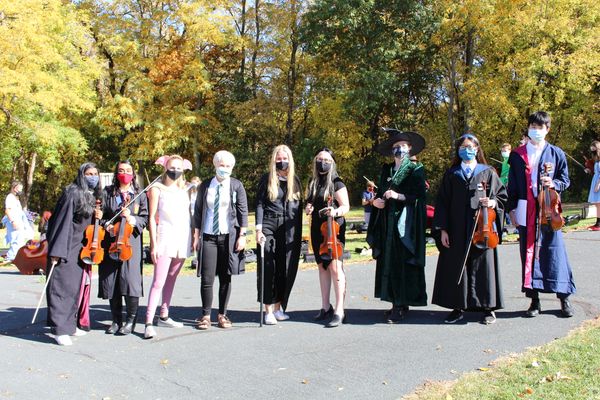 Photos by Dawn Thompson
Funding the Event
The stage would have been a bit blah without any decorations, so I worked with a local greenhouse to buy mums and mini pumpkins for decor. To pay for this, we turned it into a fundraiser. Student volunteers helped create fliers to sell mums to families attending the concert (we did this ahead of time to know how many mums we should order).  The greenhouse sold us the mums at discount so we could charge a bit more for the mums themselves. Instead of breaking even, we came out with a small profit!
Using the extra cash from the mums, we bought popcorn and juice for the student performers. Each student also got to take home a mini pumpkin from the day.
Get help from parent volunteers
It never hurts to ask, and odds are people will sign up to help you! A parent volunteer picked up all of the mums from the florist and stored them in her garage the night before the concert. Parent volunteers helped work as ushers so we could seat audience members safely. My advice is to hand off all jobs to others so that you can 1) conduct the music and 2) put out any fires. Driving mums in a van? Give that to your parent helpers. Let yourself be free to tune a troublesome home cello. Your skills are unique!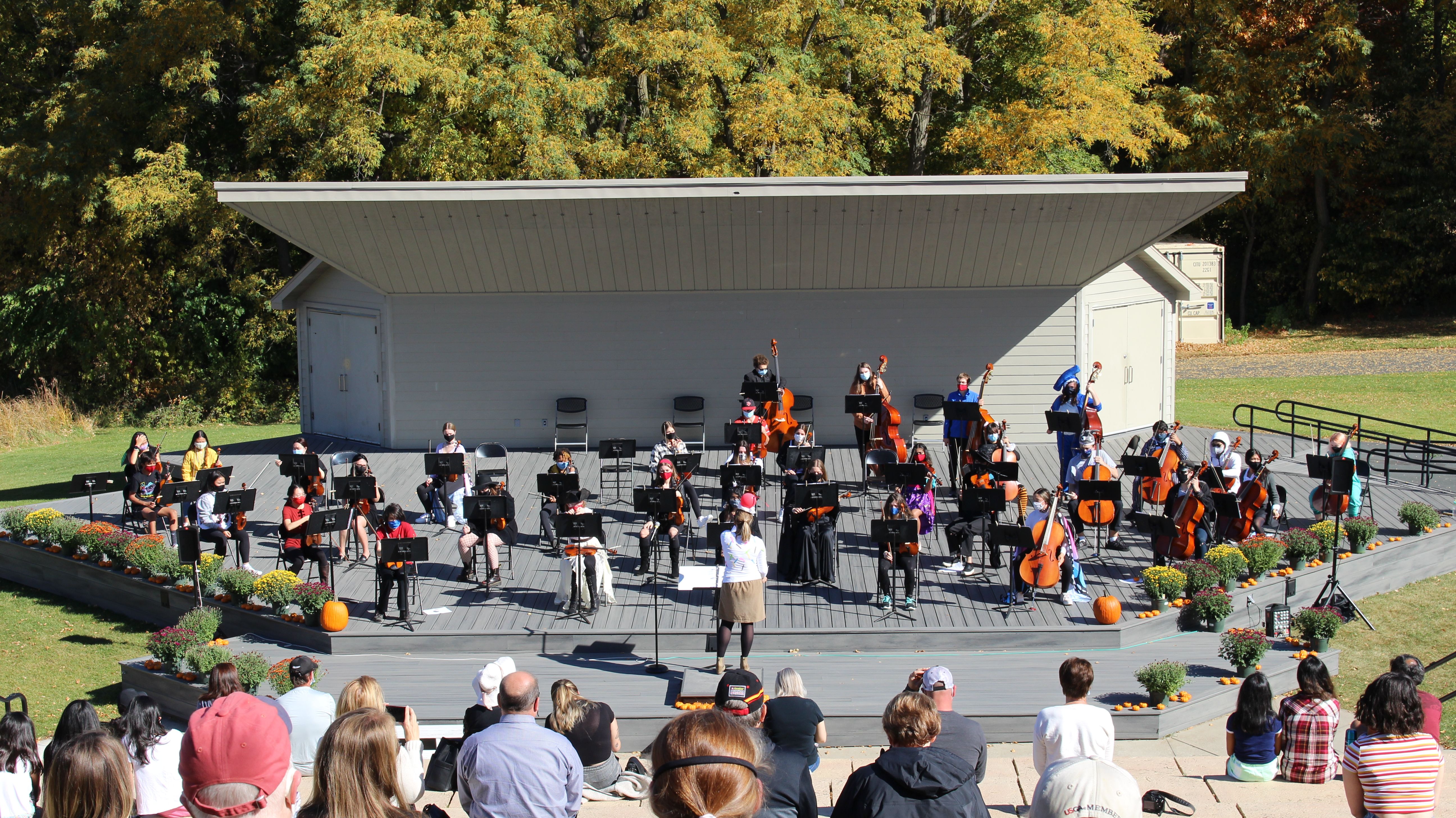 Making it work for your Program
Get creative! Remember...it won't be like it used to be. Instead, use it as a chance to be creative! This pandemic has been extremely hard but has also helped me to think differently about how I program. Have fun and stay safe.